MAP 3 is the "Swiss Army Add-in" for MindManager

By adding over 50 new functions to MindManager, MAP 3 allows you to work faster and smarter while building even more impressive mind maps and visual diagrams.
In partnership with Olympic Limited Software, Corel is pleased to offer the MAP 3 Add-in at a savings of over 20% off the standard retail price.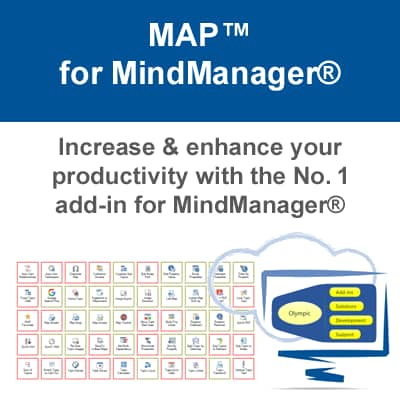 ---
Purchase MAP 3 and Turbo-Charge your MindManager experience Today!
---
MAP 3 is the easiest way to elevate your mind mapping skills with MindManager.
MAP 3 is the most feature-rich add-in currently available for MindManager 2017. The software is developed by Olympic Limited Software, a team with over 18 years of MindManager development experience. They are truly the best in the business, and they've designed MAP 3 with our user community at the top of mind. By augmenting your MindManager installation with MAP 3 you can become a true mind mapping power user. The add-in delivers overs 50 impact features to MindManager.
MAP 3 offers a breadth and depth of features that make it a vital upgrade in the toolkit of all MindManager users.