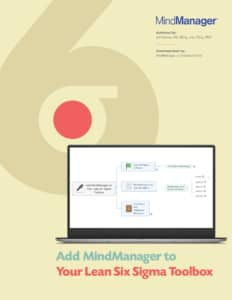 Getting better performance and efficiency out of your projects is a goal that every PM shares. Lean Six Sigma is the perfect methodology and change strategy to help you improve project performance, find and fix process deficiencies, and continuously improve your outputs and efficiency metrics.
This whitepaper is a free introductory guide into what Lean Six Sigma is, how it works, and the tools and processes you'll need to be successful.
You can expect:
A primer on Lean Six Sigma, and the DMAIC methodology.
The five steps to a successful Lean Six Sigma methodology.
MindManager tools to help with your Lean Six Sigma project.
Helpful resources to get you started on the right path.
Authored by Jeff Kearns, a highly experienced PM who has used Lean Six Sigma for more than 20 years, you'll find this whitepaper straightforward, relevant, and highly useful. Jeff is a consultant and Lean Six Sigma expert, and began using MindManager in 2005 as a core tool for his project management methodology.
Simply fill out the form to the right and you will receive a link by email to download the whitepaper free of charge.