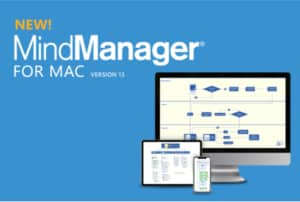 MindManager for Mac 13 lets you connect everything that matters to your work, so you can think more clearly, make better decisions, and get to where you want to be. This powerful Mac-based mind mapping and information visualization tool lets you easily and efficiently capture and work with your important information. Work at the speed of mind, and push your productivity to new levels with MindManager for Mac.
In this webinar, you'll learn about the exciting new features in the newest MindManager for Mac, and get a sneak peek into how you can use them in your work.
Whether you're an existing MindManager user, a Mac fan who hasn't made the jump to MindManager yet, or are just curious about the new release, this webinar is for you.
Learn about the newest Mac features, including:
Gantt and More: New tools for project managers.
Project Cost Tracking: Getting a more complete project picture.
Tag View: Keep your projects on track.
MindManager Snap: Snap up great content the moment you find it.
MindManager Go: Take you maps places your Mac can't go.
Tools for Mac: Including Touch Bar functionality and iCloud integrations.
And much more!
We'll also walk you through some best practices for using MindManager for Mac to help get you started on the right foot.
The maps shown in the webinar are available in .mmap format or in HTML (published via the Publisher feature in MindManager). Both versions allow you to download and edit the maps in MindManager.