MindManager Visualization Software for Better Project Management
Create Visual Mind Maps and Ensure Better Project Outcomes. Try it for Brainstorming, File Management, Team Organization, Scheduling, and More
---
Once upon a time a project manager was walking in the forest when a frog called out and said, "If you kiss me, I will become a beautiful princess and stay with you for a week."
A bit puzzled, the frog again spoke up, "Kiss me, and I will become your princess forever."
The product manager replied, "Look, I am a project manager and have no time for a girlfriend. But I can deal with a talking frog."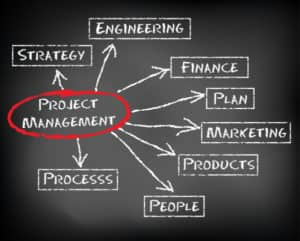 That project manager made a wise choice in denying the temptations dangled by the bewitched frog considering that:
17% of IT projects on an average cost 200% more and are delayed by 70% (Harvard Business Review)
Only 40% of projects meet their budget, schedule, and quality goals (IBM)
Around 75% of IT execs think that their project will fail (Geneca)
The national economy loses $50-$150 billion every year on failed projects (Gallup)
These statistics indicate that there are high chances of your project failing. As a product manager, you would probably be willing to use any tool or technique to better organize your project, make your day more efficient, and increase the productivity of your team.
Mind maps can do all that. And software like MindManager makes creating mind maps easy and efficient.
---
---
Mind Maps for the High Performing Project Manager
If you have never seen a mind map before this is what they look like.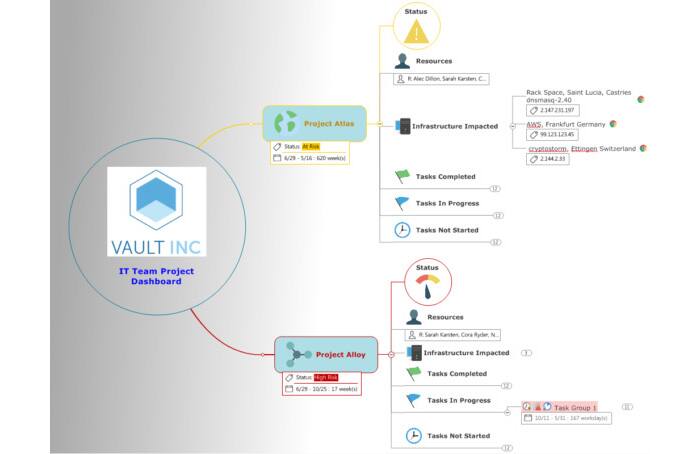 We have previously talked about how to use mind maps to increase productivity, so this post will be about how smart project managers can use these visualizations to make their projects more successful.
Here are 10 ideas on using mind maps for project management:
1. Running meetings
If you're a project manager you have to constantly juggle between the actual task of project management and administrative tasks like taking meeting notes.
Instead of wasting time laboriously writing down meeting notes you can create mind maps to highlight the minutes of meetings.
Not only do they take less time and convey information more efficiently, but they can also capture ideas which might look tangential to the topic at hand.
2. Defining scope
You can use mind mapping techniques to define the scope of a project.
As clients talk about their needs the team can work together to flesh out the project deliverables, assumptions, prerequisites, and boundary conditions in a mind map.
This process makes the entire exercise more efficient as all the stakeholders can understand the scope of the project easily on a diagram instead of referring to paragraphs of text.
3. Breaking the scope into detailed tasks
Creating the scope using a mind map is just the start. This mind map can easily be extended to a more granular level as you and your team start breaking down the project scope into actual tasks.
This work allocation mind map makes it extremely easy for you to have both a bird's eye and a worm's eye view of the entire project. You can also attach deadlines to the individual tasks on the mind map and set an easy to understand timeline.
As the project progresses you can keep referring to the diagram to keep track of deadlines.
4. Team management
You can use mind maps to help you manage your team more effectively. For example, you can delegate different tasks to your team or create an organizational structure.
This type of mind map will also help you in identifying who reports to who inside the team.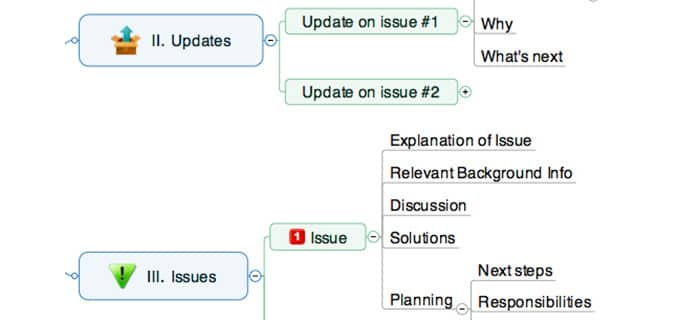 5. Effective presentation
Death by Powerpoint is a common side effect during most presentations. Instead of using text heavy slides and boring people into checking their Facebook during project management meetings you can use mind maps to present the information.
Not only will you engage your listeners more, with studies showing 15% improvement in recall, mind mapping will make meetings more valuable.
---
---
6. Project planning
Mind maps can be extremely useful for creating project plans, and also for analyzing existing plans so that they are easily understandable.
The need for breaking down a complex project plan is especially important for projects where the documents can run into hundreds of pages.
Some of the different branches in your project planning mind map can include:
Project management approach
Project scope
Change Management Plan
Communications Management Plan
Cost Management Plan
Procurement Management Plan
Schedule Management Plan
Quality Management Plan
Risk Management Plan
Staffing Management Plan
A mind map will help you flesh out these plans so that nothing falls through the cracks.
7. Solving specific problems
During the course of your project you will have to fix multiple issues which will crop up, sometimes on a daily basis.
You can use mind maps to get to the bottom of these issues and use a framework to start solving them. This mind map should let you ask the 5W+ 1H questions:
Who
What
Where
When
Why
How
You can start with the problem statement in the core and use multiple branches to represent each of the questions.
As you start fleshing out the problem statements you will start seeing linkages between different branches, enabling you and your colleagues to see creative and out of the box solutions.
8. Decision making
Mind maps are also a great tool for making decisions because they make it easy for you to understand the problem and collect the relevant data to make an informed decision.
For instance, if the release date of a system is fast approaching while the product is riddled with bugs, do you release the product and meet the deadline, or do you release the buggy product and then release fixes down the line?
For a decision like this, you will have to consider various factors, like business implications of delayed shipping to reputational damage to the brand.
You can plot each of the options available on the mind map and then figure out the next step.
Need to make decisions based off more quantitative data?
MindManager can perform calculations allowing you to easily put together a visual cost/benefit analysis, calculate risks, budget your projects, and more!
9. Idea vault
Once the project has actually started and your team is neck deep in solving problems it can be a good idea to create another mind map to organize ideas, some of them unstructured, on how to make the final product better.
As the project advances you can refer back to these ideas and start your brainstorming process until the ideas are either rejected or incorporated in a fully fleshed out form in the planning mind map.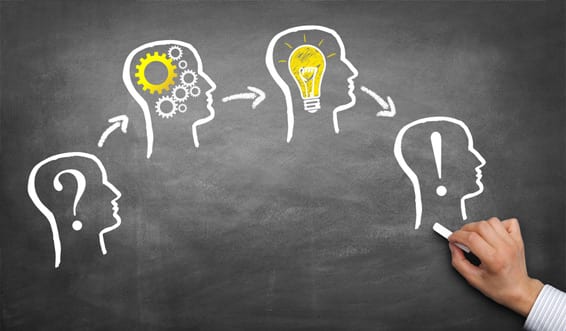 10. Project Dashboard / Resource Repository
From github code repositories to analyst reports you and your team will need to refer to several resources during the course of the project. And depending on how complex the project is, the number of resources can number into hundreds, or even thousands.
The complexity increases when many of these resources are interlinked, with conclusions from one document referred to in another.
How do you organize these resources so that everyone on your team can refer to them easily, and also understand the interlinkages?
You guessed it…mind maps!
Instead of uploading ever increasing number of documents, PDFs, and other resources in a folder you can create a mind map, and attach these resources or links to appropriate branches.
Assign team members to different projects or resources, track progress to completion, finalization dates, etc.
What's more is all this is searchable to make it more easily accessible!
This technique will ensure that not only are your resources properly categorized but users won't have to waste time clicking through individual resources to find out the one that they need at the moment.
Tips for efficient usage of mind maps
While mind maps are much simpler at conveying information all mind maps aren't made equal, and your mileage will vary depending on whether you have followed mind mapping best practices while creating one.
In the context of project management here are a few strategies to make your mind maps better:
1. Link multiple maps
In the previous section we have talked about the different types of mind maps you might need to create to manage your project.
Most mind mapping tools let you link one mind map to another so that things don't spiral out of control. In the context of project management you can link, for example the project planning map with the resources map, or become creative and link the decision map with the idea map.
Not only can you link multiple maps, MindManager recently released a new "Roll Up" function that allows you to roll up content from source maps into a single "parent" map. Great for a project manager wanting to get a visualization of multiple projects!
2. Use filters in maps
As your mind maps get more information dense you will start to get overwhelmed and many cognitive advantages of the format might start to erode.
Filters can be an elegant solution out of this mess. Most mind mapping software allow you to filter contents on your mind map according to levels, keywords, or symbols. These filters allow you to see only the a portion of the information embedded in the mind map, and make it easy for you to work easily with the most complex of maps.
In MindManager you can filter by priority, progress, resource, past due items, at risk items, things due today, tomorrow, this week, next week and any milestones.
3. Take advantage of symbols
A good mind map uses colors, symbols, and icons to depict different types of data.
When you start off with the mind mapping process it's useful to establish a visual convention so that the diagram stays consistent.
A documented visual key is also critical for maintaining order in a project management scenario when multiple people on your team will be using and referring to the mind map over months.
Conclusion
With practice using mind maps for project management will increase productivity and improve efficiency for both you and your team, leaving you with enough time to do other important things (including kissing an enchanted frog)!
---