What is a cause and effect diagram?
A cause and effect diagram (also known as Ishikawa, fishbone, or tree diagram) presents the causes of the root problem. It is a logical way to visualize how the effect came about.
A cause and effect diagram can range from a few simple elements to a complex visualization with extensive, complex branching, depending on how complicated your project or product is.
It is most commonly used in business when designing a product or planning a specific business idea, with the intention of easily being able to weigh up pros and cons.
Are you trying to solve a complicated problem? Sign up for MindManager for free to use a cause and effect diagram to help think through all the possible causes of the problem.
Example of a cause and effect diagram
Let's walk through a real-life example using our MindManager fishbone diagram template.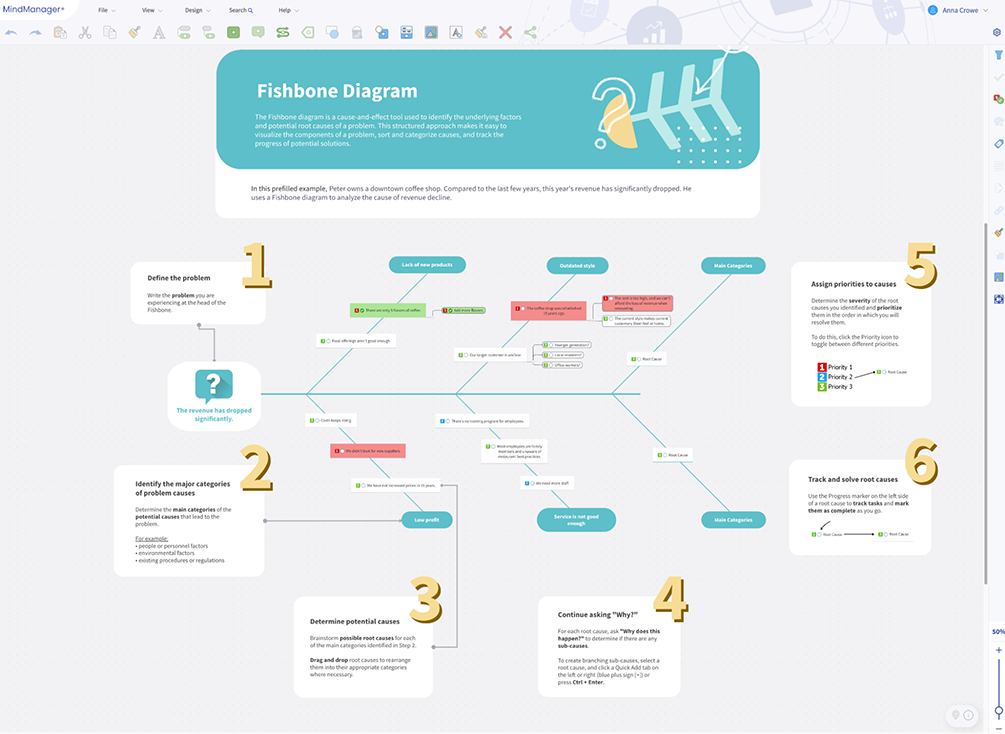 Meet Peter. Peter owns a coffee shop in downtown Seattle.
Compared to the last few years, this year's revenue for Peter's coffee shop has significantly dropped.
To help Peter understand the cause of revenue decline, he uses a fishbone diagram.
First, Peter defines the problem. The problem is revenue has decreased.
Next, Peter lists components of the problem or potential causes as branches. Think of each of these bullet points as a branch: