The Ultimate Guide to Understanding Strategy Maps
In order to accomplish any goal, you need to have a strategy to get it done. Sometimes, there are so many details in completing the goal that you forget things and miss some important steps. You can create a to-do list, but that can get confusing when you're attempting to handle multiple tasks at the same time. You need a way to see the big picture all at once, so you don't miss anything. A strategy map might be the right choice to see what you need to accomplish and all the parts involved in completing the job.
What Is a Strategy Map?
A strategy map is a visualization tool to help a company or organization see their main goals, how the various objects relate to each other, and steps they need to take to realize their goals. The strategy map is typically created during a strategy meeting and then used to verify milestones throughout the project.
You find that a strategy map is made up of four different categories for the objectives. The categories might also be called perspectives, and these include clients, finances, the internal process, and the learning and growth of your staff. You can think of these prospective as the reward for following through on the strategy and what you need to do to reach the goal.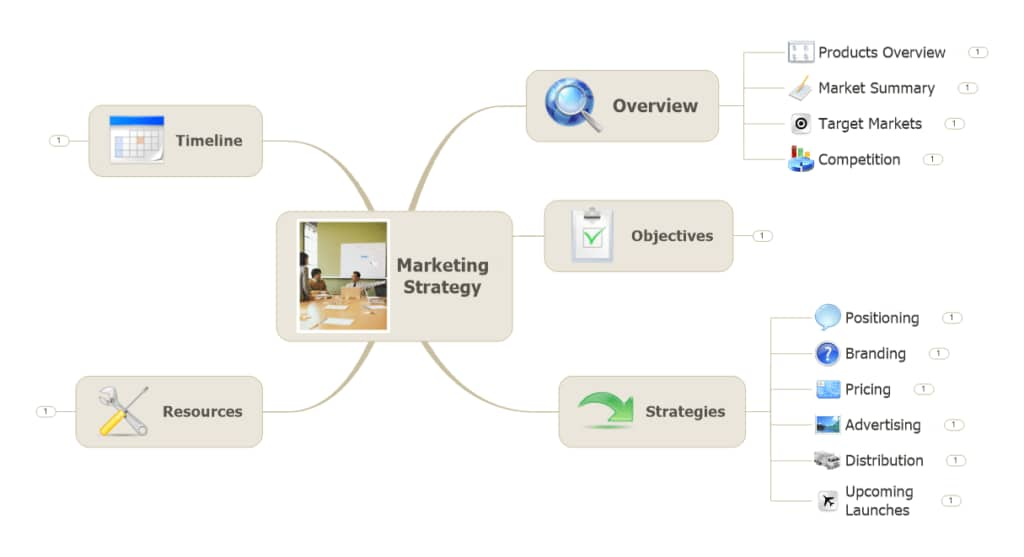 Strategy Map Examples
Before you spend your time creating a strategy map, you want to know that it benefits you. It's also a good idea to know the circumstances when you can use a strategy map. You can use a strategy map to track and test almost any process. You might use a strategy map to:
Design new products
Plan a marketing campaign
Create standardization for processes throughout an organization
Plan a conference or marketing event
You can use a strategy map to design any project you need to complete. It can be used in a variety of industries, including education, marketing, non-profits, healthcare, and more. You can create a simple strategy map in several mediums, including pen and paper.
How to Make a Strategy Map
It isn't difficult to make a strategy map. With a whiteboard and markers, you can design a strategy map in any meeting. Once you create a strategy map, it's easy to read in any order, but when you create one, it's a good idea to create it from top to bottom.
This means that you should start with the financial goal for your organization. From there, you move to the other perspectives that can help you achieve the financial goal. These include your customer base, the processes you'll utilize to accomplish the goal, and finally, learning and growth.
Once you complete your strategy map, you can use it to ensure that you're moving in a positive direction until the goal is met.
Strategy Map Software
It would be difficult to create a strategy map with the software you use every day, such as spreadsheet and document software. You might be able to create a basic strategy map, but you'd have to add details by hand after printing it. You need a software program that's geared to design.
MindManager offers a software program that makes creating a strategy map easy. You can easily plug in the necessary information and adjust as you need to during the project.
Get Started Fast with Templates!
MindManager comes pre-installed with many templates for you to choose from. To use these templates:
Open MindManager
Click NEW in the navigation menu
Select the template you want to use
A preview screen will appear. Check to if you want to use your selected template
Select Create Map
Customize the template for your specific project

Other Types of Maps and Charts
Conclusion
A strategy map is a visual representation of a goal and what you need to do to realize it. You can use the strategy map throughout the process and mark off milestones as each is reached. A strategy map can be used in almost every industry. If you have questions or need more information, contact us today.